New Technologies
At OMNI Aesthetic, we pride ourselves on pioneering the usage of some of the most innovative and advanced technologies, procedures, and methods in the Advanced Aesthetic Medicine field. We work closely with companies to be the first and only New York center to offer all these emergent technologies in one place. Some of the ground-breaking services we are proud to offer include:
Canfield VECTRA xt
The Canfield VECTRA xt is a brand new 3D photo capture system from Canfield Imaging Systems. A single system to capture 3D face, breast, and body images. With ultra-high resolution color image capture, VECTRA XT assures razor sharp definition of the smallest details. The VECTRA allows our practitioners to engage in a streamlined, state-of-the-art consultation as you view the three-dimensional image from any angle, zoom in for a closer look, superimpose the simulation over the pre-op, compare side-by-side, or fade between the two. The technology can automate measurements, calculate volume difference, analyze before and after photos, and compare multiple scenarios for body contouring, breast and butt augmentation, rhinoplasty, and much more.

SmartGraft
"It's time to get Smart about hair loss."


OMNI Aesthetic is proud to team up with SmartGraft to be the only provider of their amazing hair restoration procedure in all of New York. SmartGraft is a minimally invasive procedure that heals quickly and has you back to work in no time. Using only local anesthetic, the device gently extracts individual hair grafts from areas with more hair to graft them to the areas you desire. Because it's your own hair, this procedure gives the most natural looking results possible because it's just that; all natural. Follow this link for more information.

InstaLift
InstaLift is a brand new treatment for addressing the issue of a tired and aged looking face. InstaLift uses a special bio-degradable suture with bi-directional cones to reposition and elevate the skin on your face. The suture is inserted in and around the cheek and jawline to lift and contour the mid and lower face. The suture is absorbed in the body over time, and stimulate production of collagen to ensure the lift remains in place. OMNI Aesthetic is proud to be one of the very first practices in New York to feature this new procedure. Learn more about InstaLift here, or schedule a consultation/appointment for InstaLift today.
Canfield VISIA
"Redefining the Vision of Skin Care"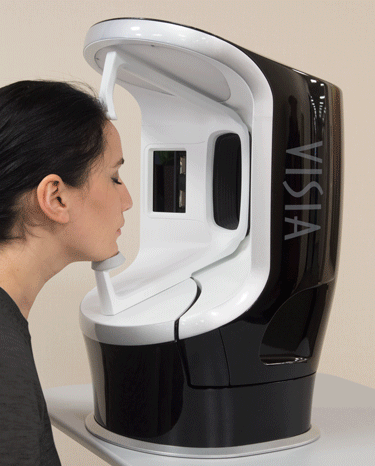 Canfield SCI, the world leader in medical imaging software, has provided us with the most advanced imaging technology yet, the VISIA. The VISIA gives quantitative information about wrinkles, UV spots, pores, texture, poryphins (microscopic bacteria), brown spots, and red areas. It also allows for meaningful, side-by-side comparisons, so you can truly see the effect products are having on your skin. The technology also allows for eyelash analysis, TruSkin age, 3D view of the skin, and even advanced aging simulation.
CoolSculpting / CoolAdvantage/ CoolMini

OMNI is one of the first aesthetic practices in New York is feature a new hand piece applicator called CoolAdvantage, which enhance results in certain areas and cuts down CoolSculpting treatment time by almost half. CoolAdvantage delivers the proprietary CoolSculpting technology at lower temperatures and features a 3-in-1 configuration and enhanced cup design to better grip harder to treat areas. The new applicator has led to a 45% increase in patient comfort during treatment, with 85% of CoolSculpting patients preferring the new applicator due to shortened time and increased comfort. The 3-in-1 configuration allows for better results in vertical areas of fat such as the inner thigh, contours of the abdomen, and flanks.

ThermiRF Tight / Thermi Smooth/ Thermi250